Latest news from current events and policy changes regarding EU migration and  asylum
Refoulement de migrants en Grèce : l'enquête qui accuse Frontex Ce document, que « Le Monde » et ses partenaires de Lighthouse Reports et l'hebdomadaire allemand « Der Spiegel » ont pu consulter, accuse l'ancienne direction. A Bruxelles, le rapport est réputé si toxique que personne ne voudrait le lire.
Greece: Minister Accuses MEPs of Being Manipulated by Propaganda and NGOs of Coordinating with Human Smugglers, Reports of the Use Third-Country Nationals in Pushbacks Operations Amid War of Words with Turkiye
The EU funded Emergency Support to Integration and Accommodation programme (ESTIA) continues to unravel. Trial on Syros, arrests in Thessaloniki and pushbacks in Evros illustrates how Greece 'welcomes' people in need of protection.
«Libération» revient sur un refoulement forcé qui a visé une ressortissante française pour la première fois. Sa famille et ses avocats ont porté plainte contre la Grèce et envisagent de le faire contre la France.
Fabrice Leggeri, le directeur de Frontex, démissionne à la suite d'une enquête de l'Office de lutte antifraude de l'UE portant notamment sur des cas présumés illégaux de refoulement de migrants.
Frontex, l'agence européenne de gardes-frontières, a maquillé des renvois illégaux de migrants en mer Egée.
Les migrations contemporaines ne sont pas différentes de celles bien plus anciennes, invasions Viking ou saxons, accroissement d'Empires (Rome ou aujourd'hui la domination Russe).
Though the current Greek government has launched policies to welcome refugees from Ukraine, the same cannot be said for refugees from other world regions and migrants.
Since the Russian invasion of Ukraine, Greek government ministers and MPs have spread false claims about refugees and international law. While experts, the UNHCR, and EU data refute their claims and more allegations are reported regarding Greece's illegal pushbacks of asylum seekers.
« Des pays qui refusaient l'application de la protection temporaire en 2015 sont aujourd'hui en première ligne de l'accueil » Interview de Marie-Christine Vergiat, ancienne députée européenne
Le séisme et le choc provoqués par l'invasion de l'Ukraine ont eu pour contre-coup de jeter une lumière crue sur la guerre menée par Poutine en Syrie à partir de 2015.
« Au cours de l'année écoulée, la Commission européenne a reçu des plaintes, des questions et des lettres successives concernant la légalité de l'application du concept de « pays tiers sûr » en Grèce.
L'Europe multiplie les gestes de générosité à l'égard des exilés ukrainiens. Mais cet immense élan de solidarité, dont il faut se réjouir, masque la poursuite de pratiques indignes qui, sur d'autres frontières du continent, mettent des vies en danger.
La procédure d'asile grecque en chiffres : la plupart des demandeurs d'asile sont éligibles pour une protection internationale en 2021
L'État dépense un demi-milliard d'euros d'argent public par an pour harceler quelques milliers d'exilés.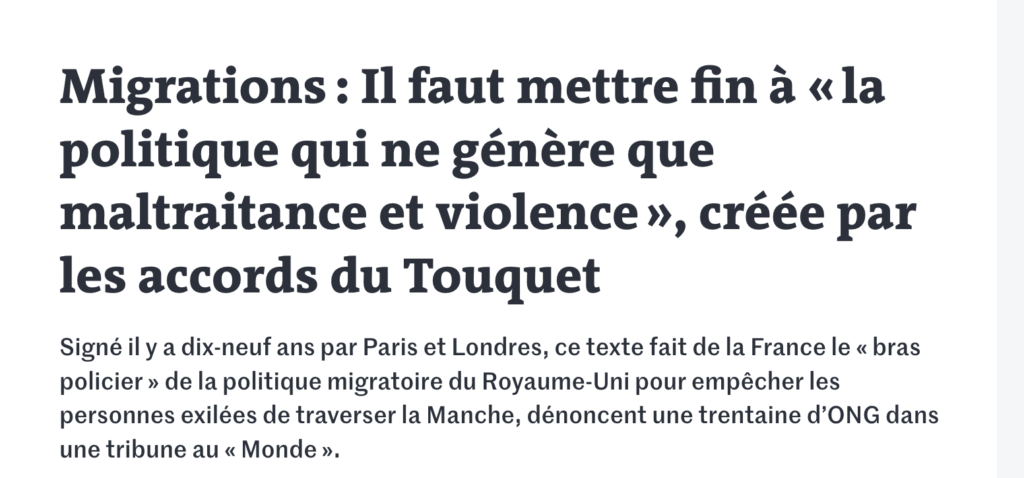 Migrations : Il faut mettre fin à « la politique qui ne génère que maltraitance et violence », créée par les accords du Touquet.
Time limit for ECHR applications reduced to four months.
EU: Number of irregular migrants back to pre-pandemic levels, says Frontex
UNHCR issues recommendations to the 2022 French and Czech Presidencies of the Council of the EU
In 2021, an NGO counts 629 cases of illegal refoulements in the Greek islands
Afghans in Greece Feel Abandoned After Getting Asylum
N. Mitarakis confirms the disappearance of 25,000 rescued in the Aegean
Malakasa – The first closed refugee structure was inaugurated in mainland Greece
Turks fleeing Erdogan regime forced back as they cross into Greece
Frontex Denies 'Expelling' Migrant Watchdog Team from Greek Border
 Joint statement by 19 organisations active on refugee issues in Greece
Fortress Europe: the millions spent on military-grade tech to deter refugees
Greece: migrants between doubt and hope after the visit of Pope Francis to Lesbos
Mistaken for a migrant, a Frontex interpreter is beaten and deported by the Greek police
According to Greek authorities, unrecognized refugees cannot return to Turkey
Protection of unaccompanied children in Greece
The right to asylum in the context of « instrumentalisation » – lessons from Greece
Who is affected by the truth of the illegal deportations ?
Detained and Forgotten at the Gates of the EU, Detention of Migrants on the Island of Kos
Greece accused of 'biggest pushback in years' of stricken refugee ship
Prisons in paradise: Refugees detentions in Greece raise alarm
ARSIS: 194 unaccompanied minors found in the streets of Thessaloniki
Revealed: The UE-funded pushback operations violently forcing asylum seekers across borders
Greece: Nea Kavala, an isolated camp "where a concrete wall cuts off the sound and blocks the view"
Ambassador in limbo makes plea for Afghans to be allowed into UE
EU: Tracking the Pact: Member state comments on the proposed Asylum and Migration Management Regulation
Europe is politicising Afghan refugees instead of helping them 
Council of Europe slams Greece's deportations and returns bill
UN warns of up to 500,000 more Afghan refugees by year-end
Greece says Turkey continues to block returns of illegal migrants 
Greek police arrest Dutch journalist for helping Afghan asylum seeker
EU to support Turkey with another € 3.5 billion for refugees 
From 17/6  replacement of DADP from the new PGA cards of Thessaloniki
MSF: 456 children in Lesvos migrant camp have been treated for mental health problems
In post-pandemic Europe, migrants will face digital fortress
In the face of migration, the limits and excesses of Fortress Europe
Migration lawsuit launched against EU's border agency
Greek authorities should investigate allegations of pushbacks and ill-treatment of migrants
"We call it 'modernization'" – reception centers for migrants will be 'closed' facilities
Frontex 'mislabelling minors as adults' on Greek islands
Revealed: 2,000 refugee deaths linked to illegal EU pushbacks
Thessaloniki: 128 people in five months appealed to the social service of ARSIS
Greek camps for asylum seekers to introduce partly automated surveillance systems
The EU-Turkey deal, five years on: A frayed and controversial but enduring blueprint
Data and new technologies, the hidden face of mobility control 
Greek Government instructed by European Court of Human Rights to guarantee rights of 3 LCL clients: An indictment of reception conditions in Lesvos
5 Years of violence and misery under the EU-Turkey Deal
The EU Pact on Migration and Asylum in light of the United Nations Global Compact on Refugees
The widening gap in migrant
protection in the Mediterranean